Carlo's Table














Equipment
This silly game of pool is played with sticks and balls. Any game know to man that includes sticks and balls is an instant success.
Balls, tables, cues are accumulated by the millions and darn few make much of a living at supplying pool gear. Golf balls get lost, and every golfer wants a new set of sticks every couple of years, but pool players will keep the same cue for 40 years.
Check out the articles to the left. It will show you how goofy we can be.

Click on thumbnail of Carlo's table - a 1918 Brunswick Arcade
-or-
View a video of an early problem with Carlo's table (since remedied.)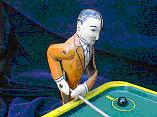 Carlo
Nobody paid me any money to put these links here, I just thought they deserved it. Tell them Carlo sent you, maybe they'll buy me a beer.